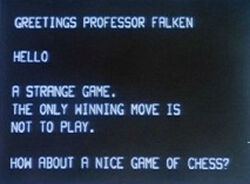 Joshua is a computer gifted with artificial intelligence which was created and developed by Stephen Falken. Joshua was named after Stephen's own son who died at an early age. Joshua was taught by Stephen to be a true AI, who was able to learn from his experiences. He learnt by playing games and learning and improving based on previous matches.
Ad blocker interference detected!
Wikia is a free-to-use site that makes money from advertising. We have a modified experience for viewers using ad blockers

Wikia is not accessible if you've made further modifications. Remove the custom ad blocker rule(s) and the page will load as expected.